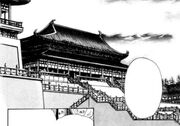 The
Konan Imperial Palace
is located at the center of
Konan's
capital,
Eiyou
. Its grounds, a mystery to the lower classes, is known to a select few, housing not only the royal family but appointed advisors, the imperial harem, and servants.
The character list below is based on the events in the Fushigi Yuugi: The Mysterious Play anime/manga and the Suzaku Hi Den light novel.
Imperial Family
Current Emperor
Current Empress
Former Emperors
Former Empress
Crown Princes
Princes
Palace Residents and Staff
Current Prime Minister
Former Prime Minister
Imperial Harem Manager
Imperial Consorts
Servants
Community content is available under
CC-BY-SA
unless otherwise noted.