Jurassic World: Dominion Dominates Fandom Wikis - The Loop
Play Sound
Morioka, Japan, is a prominent Real World location in Fushigi Yuugi: Genbu Kaiden and a minor location in Fushigi Yuugi: The Mysterious Play. Takiko, Einsokue, and Yoshi Okuda lived here as well as Suzuno Osugi later in life with her grandson, Toki Osugi.
Morioka is the capital of the Iwate prefecture, which is in the Tohoku region of the Honshu island in Japan.
Genbu Kaiden
Before Genbu Kaiden begins, after Yoshi Okuda falls ill, she expresses a desire to see her hometown "one last time." The Okuda family decides to pack up their busy lives in Tokyo and relocate to Morioka, more exactly in a traditional Japanese house owned by Yoshie's family. Once there, Einsokue Okuda suddenly departs on a trip to China for research on his new novel, leaving his daughter, Takiko, and sick wife behind.
Chapter 1 of Genbu Kaiden opens a year after Einsokue left for China as Takiko attends Morioka's local high school. Yoshie passes away shortly afterwards Einosuke's return, and Takiko is spirited into the Universe of the Four Gods in the middle of the preparations of her mother's funeral.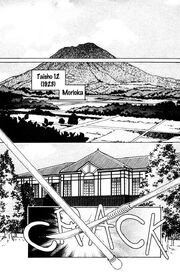 Fushigi Yuugi
In the anime, Keisuke and Tetsuya investigate the supposed murder-suicide involving Einsokue and his daughter, Takiko.